| | |
| --- | --- |
| | joshuatreevillage.com |
Welcome to Joshua Tree Village
This Domain is For Sale -- Please Inquire at domainsadmin at wanet.net!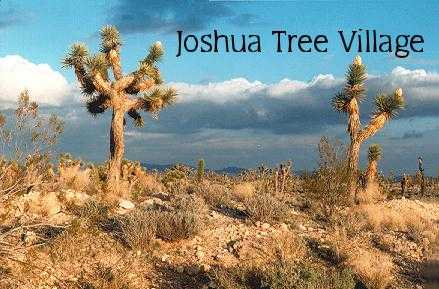 Photo ęCopyright 1996, Emily Carl
This site was established in 1996
"Gateway to the Joshua Tree National Park"
Your #1 Source for Information about Joshua Tree, CA.
ABOUT | BULLETIN-BOARD | CHURCHES | CLASSIFIEDS | COMMERCE
COMMUNITY ACTIVISM | EDUCATION | E-MAIL | GOVERNMENT | HOBBIES | INFORMATION
MYSTERY | ORGANIZATIONS | SEARCH | SITES | THE ARTS | TRANSPORTATION | TRAVELERS
Search for any WORD on this site: SEARCH
---
Thank you for visiting our Community Website!!
Joshua Tree is located in the High Desert area of the Morongo Basin in Southern California, east of Los Angeles. Near by is the Joshua Tree National Park. The area is famous to rock-climbers the world over as a prime location for rock-climbing.
This Website is Hosted by: WANet.net
Tell Them "You saw 'Their Web Page' on the Web at JoshuaTreeVillage.com."
Please direct web site issues to support at wanet dot net .
NJC Web Creations
Site Disclaimer ęCopyright 1996-2020. All rights reserved.